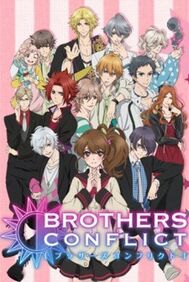 Brothers Conflict is an anime television series, produced by Brain's Base and directed by Atsushi Matsumoto. The romantic comedy follows the misadventures of Ema Hinata, daughter of the famous adventurer Rintarō Hinata. One day, Ema finds out that her dad is going to remarry with a successful apparel maker named Miwa Asahina. Rather than bothering them, she decides to move in to the Sunrise Residence complex that is owned by Miwa. From there, she discovers that she has 13 step-brothers.
List of EpisodesEdit
No.
Title
Original airdate
1

"The First Conflict: Brothers"

"Dai ichi shōtotsu: Kyōdai" (第一衝突: 兄弟) 

July 2, 2013
2

"The Second Conflict: Confusion"

"Dai ni shōtotsu: Konran" (第二衝突: 混乱) 

July 9, 2013
3
"The Third Conflict: Promise"


"Dai san shōtotsu: Yakusoku" (第三衝突: 約束) 

July 16, 2013
4
"The Fourth Conflict: Jealousy"

"Dai shi shōtotsu: Shitto" (第四衝突: 嫉妬) 

July 23, 2013
5
"The Fifth Conflict: Submersion"

"Dai go shōtotsu: Shinsui" (第五衝突: 浸水) 

July 30, 2013
6
"The Sixth Conflict: Photos"

"Dai roku shōtotsu: Shashin" (第六衝突: 写真) 

August 6, 2013
7
"The Seventh Conflict: Breaking Point"

"Dai nana shōtotsu: Genkai" (第七衝突: 限界) 

August 13, 2013
8
"The Eighth Conflict: Nightmare"

"Dai hachi shōtotsu: Akumu" (第八衝突: 悪夢) 

August 20, 2013
9
"The Ninth Conflict: Vision"

"Dai kyo shōtotsu: Bijon" (第九衝突: 夢幻) 

August 27, 2013
10
"The Tenth Conflict: Enlightenment"

"Dai Jyu shōtotsu: Higan" (第十衝突: 彼岸) 

September 3, 2013
11
"The Eleventh Conflict: Love-Hate"

"Dai jū ichi shōtotsu: Ai to nikushimi" (第十一衝突:愛憎) 

September 10, 2013
12
"The Twelfth Conflict: Romance"


"Dai jūni no shototsu:Denki" (十二紛争:伝奇) 

September 17, 2013
Community content is available under
CC-BY-SA
unless otherwise noted.